Sponsor: Bill and Melinda gates Foundation.
Coordinated by: FHI 360
Investigators
Prof. Elizabeth Bukusi Principal Investigator
Dr. Maricianah Onono Co- Principal investigator
Dr. Stella Njuguna Co-Investigator
Brief Summary
The Evidence for Contraceptive options and HIV Outcomes is an open-label randomized clinical trial that will compare three highly effective, reversible methods of contraception to evaluate whether there is a link between use of any of these methods and increased risk of acquiring HIV infection.
Background
Women worldwide need family planning, and in Africa, the use of hormonal contraception, and especially Depo, provide women with a long-acting, reversible and safe option for birth control.




More than 150 million women around the world use hormonal contraceptives.

African women are at high risk of HIV.




16 million women aged 15 years and older are living with HIV; 80% live in sub-Saharan Africa




Young women 15–24 years old in sub-Saharan Africa are twice as likely as young men to be living with HIV.
African countries with HIV prevalence also have high rates of women using hormonal contraception
The reasons for this are unclear.

There is confusing data about whether there is a link between using some contraceptives and an increased risk of contracting HIV.
Objectives
Primary objective
To compare the risks of HIV acquisition between women randomised to DMPA, levonorgestrel (LNG) implants, and copper IUDs
Secondary and tertiary objectives
Pregnancy, safety, contraceptive continuation
Why do we need the ECHO Study?
For over 25 years, the world has lived with the uncertainty about whether or not use of hormonal contraceptives increases HIV risk.

ECHO aims to answer this critical public health question of the possible risks (HIV acquisition) and benefits (pregnancy prevention) of the three commonly-used, effective contraceptive methods among women who desire contraception.
Purpose of the ECHO Study
When comparing women's use of the contraceptives— Depo, Jadelle and IUD:
Is there an increased risk of acquiring HIV when they use one method over the others?

Are there more or less side effects of each method?

Are the pregnancy rates the same?

How well do women stay on each of the three contraceptive methods?
ECHO Sites
The study will take place at 12 sites across Eastern and Southern Africa, including sites in:
Kenya – Kisumu

South Africa

Swaziland

Zambia
Who can participate in the ECHO study
Sexually active women 16-35 years old

HIV negative and willing to be tested

Seeking effective contraception

Do not want to become pregnant for the duration of study participation

Willing to be randomised to any of the three contraceptives being tested

Willing to give consent to participate
Voluntary and confidential
All information shared with trial staff will kept confidential.

Women are asked to be honest at all times in their answers to staff.

Participation is voluntary and women may leave the study at any time they wish.
Study products
DMPA or Depo Provera
Most widely used progestin-only injectable
Given every 3 months as injection in arm
Return of fertility is often delayed, by a minimum of four months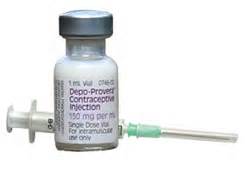 Jadelle Implant
Consists of two thin, flexible rods filled with synthetic progestin that are inserted just under the skin of a woman's upper arm

Once inserted, lasts up to 5 years, although one can have it removed at any time




Rapid return to fertility once removed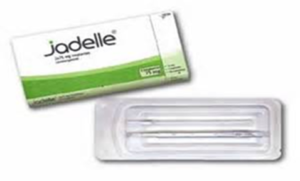 Copper IUD (Cu-IUD)
The copper-bearing intrauterine device (Cu-IUD) is a small, flexible plastic frame with copper sleeves or wire around it that is inserted in the uterus (womb)
Once inserted, lasts up to 10 years, although one can have it removed at any time
Return to fertility is immediate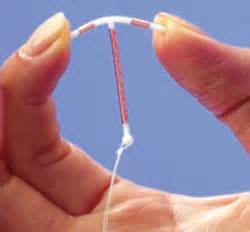 How the study works
Recruitment and Enrolling in the Study
Potential participants will be invited to the trial site to learn about the study

During an initial visit, they will learn about the risks and benefits and also about what is included in the visits (known as informed consent).

Women will learn about the 3 contraceptives being tested and asked if they would be willing to use any of the 3 products
study groups
When a woman enrols in ECHO, she will be randomly placed in 1 of 3 groups:
(DMPA) Depo Provera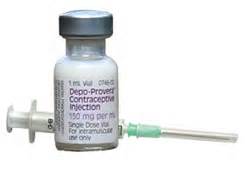 Jadelle Implant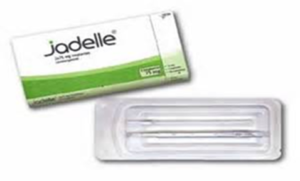 Copper IUD (Cu-IUD)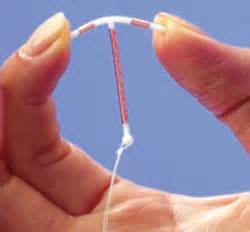 Participants in all groups will be given the same standard prevention package (condoms, HCT, STI treatment)
All women have an equal chance of being placed into each group.
Neither she nor the staff can choose which product each participant will receive.
Selection into a group is random, like rolling a dice.
Once a participant is in a group, she will be encouraged to remain on her assigned method for the duration of the study.
Participant study visits schedule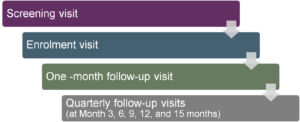 What happens during study visits?
Provide contraceptive counselling

Provide HIV counselling and testing

Ask questions about sexual behaviour

Do a pregnancy test if needed

Check health – for STIs and side

effects to products

Update contact information

Schedule next appointment

Give reimbursement for transport
What happens to women during the study who:
Become HIV positive
Receive counseling

Referred to local HIV care providers for on-going care according to the Nationa guidelines

Remain in the study until completion and continue receiving services.

Collection of data relevant to the additional study questions
Become Pregnant
Receives care or referred for further care

Discontinue her assigned method

Remain in the study until completion

Collection of data on HIV acquisition

If pregnancy ends before completion of study, the woman will be encouraged to resume her allocated method or offered a choice of many method available at the clinic
Want to switch or stop Contraception
Advised to come to the clinic to discuss her concerns and experience with the method.

some women may wish to switch to another method after receiving counseling and treatment of any side effects.

Participants may change methods at any time during the study

Women who switch methods will remain in the study and will be seen accordingly
Study approvals
The study has been reviewed and approved by the ethics review boards of FHI 360 and the World Health Organisation, as well as the KEMRI Ethics Review committee

In addition, national regulatory authorities, including the Kenya's Pharmacy and Poison Board, have been notified and have approved the study.
Participants safety and monitoring
An independent Data Safety Monitoring Board (DSMB), comprised of global experts in reproductive health and HIV will meet regularly (six monthly) to oversee the well being of participants.

DSMB will review the data regularly (six monthly) to ensure the safety of participants and to determine if the study should continue.

The study site investigators (PI) are responsible for continuous safety monitoring of all participants.
What If No Trial
The observational evidence base is unlikely to improve

Without a trial, messaging will continue to be challenging for providers, policymakers, and patients. Essentially:

If HIV risk exists in truth, unnecessary infections will continue to occur.

If HIV risk does not exist in truth, policies and/or individual women's choices may alter, with potentially serious negative consequences for maternal morbidity/mortality

Women need accurate information to exercise informed contraceptive choices
What role can you play?
Continue to learn and ask questions about the ECHO Study whenever needed.

Encourage women to participate in the study.

Support women who choose to participate in the study.

Dispel misinformation about the ECHO Study and research in general.

Invite site team to talk in your community.
On-going Communication
For more information about joining the ECHO study, please contact: Dr. Maricianah Onono at 0732390992

For regular updates on the ECHO study progress and information related to hormonal contraceptives and HIV, please visit our website and sign up for our newsletter at: www.echo-consortium.com
ECHO Ancillary Study of Biological Mechanisms
Grant PIs include:
NIH R01 – Renee Heffron & Heather Jaspan
FHI360 Fellowship – Jen Deese
ECHO biological mechanisms working group (BMWG)
Liaises with ECHO ops committee and management committee

Developed 1 standard set of samples to be collected at each participating site

Membership is open to any ECHO team members (you can join if you want)
Biological mechanisms linking contraceptive use and HIV
The primary goal of ECHO is to compare the risk of HIV infection among women assigned to use three different contraceptive methods (copper IUD, Jadelle implant, DMPA injectable)

By addressing this goal, we will still not answer the question about how any of these contraceptives could increase HIV risk.

Studies of biological mechanisms will permit to investigate possible pathways through which contraceptives could increase HIV risk

In addition, these studies will provide important information for the development of new contraceptives and products that combine contraception with HIV prevention (called MPT or multipurpose prevention technologies

To participate in the ancillary study, participants must be consented to protocol v3.0 or higher in ECHO.

The consent form used for protocol v3.0 + includes the additional samples being collected for the ancillary study (BM).
Agreement to sample collection
In addition to consenting to participate in the ECHO study, participants must also agree to the additional samples being collected for the ancillary study.
Agreement might be documented within the consent form as a separate check box OR may be documented in the participant file.
Site-wide consistency in documentation of this agreement is necessary.
A participant can consent to ECHO protocol v3.0/v4.0 but refuse additional sample collection. In this case she is NOT eligible for the ancillary study.
If she changes her mind at a later visit and does agree to the additional sample collection, she can be enrolled in the ancillary study and contribute samples.
Studies of biological mechanisms within ECHO
Like most studies of contraception and HIV, most studies of biological mechanisms have not been randomized.
Within ECHO, we can do randomized comparisons of how certain biologic markers change from enrollment to later months – and how these changes compare across all arms.
We can also look to see if seroconvertors experience any changes to a greater degree than non-seroconvertors.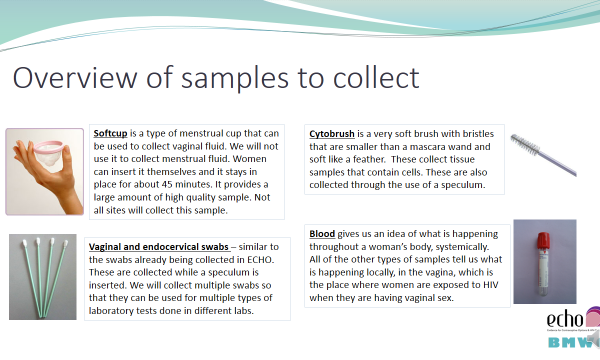 Enrolment into the BioMech Ancillary Study
1) Consented to ECHO protocol version 3.0 or higher
AND
2) Agreed to have additional samples collected
Newly enrolled participants will be consented to v3.0+ and asked to agree to additional sample collection at the enrolment visit
Participants in follow-up can be re-consented to v3.0+ & asked about agreement to sample collection at any visit
To participate in the ancillary study, participants must be consented to protocol v3.0 or higher in ECHO
The consent form used for protocol v3.0 + includes the additional samples being collected for the ancillary study.
Genomic Data Sharing (GDS) Consent
Some of the assays to be conducted as part of this ancillary study involve understanding changes in genes and how genetic material might affect HIV acquisition.
Since these studies are supported by the National Institutes of Health (NIH), we must comply with their requirements to share the de-identified genetic data that is generated as a part of this testing in a databank.
The requirement to include the genetic data in the NIH databank makes it necessary to have an additional consent form in order to inform participants of this requirement so that they may decide whether or not they will allow their genetic data in the NIH databank. 
The NIH data bank includes de-identified data. It is not a specimen bank. 
Participants can sign the GDS consent at any visit.
Participants may change their mind at any point about whether or not they are willing to have their data stored in the NIH data bank.
Clinic Flow
Biological Mechanisms Ancillary Study procedures should not impede regular ECHO procedures. It is ideal to integrate ancillary study procedures into regular ECHO procedures where possible.
For example:
Collect blood for the ancillary study at the time of blood collection for ECHO HIV testing and archival
Collect genital samples for the ancillary study at the time of pelvic exams already part of regular ECHO procedures
Insert softcup at the beginning of the visit so that the participant can continue with other visit procedures such as counseling
Additional samples collected as part of the Biological Mechanisms Ancillary Study are collected at the following visits:
Enrolment

Month 1

Quarterly (Months 3, 6, 9, 12, 15, and 18)
If the participant seroconverts during follow-up, additional sample collection will stop after HIV seroconversion is confirmed.
Laboratory requisition forms should be completed to document which samples were collected in the clinic.
Chain of custody of all samples should be documented when samples move from the clinic to the on-site laboratory and to an off-site laboratory (if applicable).
QC should be done in the clinic and in the lab to ensure samples are labeled correctly
Preparing sample packs
Sample packs should be prepared before the participant visit and include all items needed for sample collection
Items in the sample pack should be labelled with the appropriate sample indicator (A, 1-9)
Remember that the 50mL tube for softcup collection must be weighed empty before being placed in the sample pack. Record the weight in permanent marker on the side of the tube.
[ninja_tables id="24554″]