Project Description
MACCESS is an innovative study with a goal of maximizing access & utilization of maternal and newborn health services using mobile technology.
The study is based in East Karachuonyo Kendu bay sub county, it implements its activities within 31 community units with East Karachuonyo.
The study began in the year 2016 when Kendu Bay had low access and utilization of maternal and new born health services, with only 60% of pregnant women delivered by a skilled birth attendant.
Study objective
To contribute to reduction in maternal and newborn mortality by developing a mobile based tool with the following components:-
SMS based vital records system to register each pregnancy and its outcome including birth and gestational age estimates.
Free SMS based Surveys that send personalized trimester based text messages to pregnant women and mothers and reminders to utilize anti and post-natal care services.
Interactive chat service linked to a loyalty program that allows women to chat with a real health care worker.
A 24 hour transport navigator system through which women can request for transport pick up and linked to the nearest fasted most reliable and available rider and automatically relayed information to the women, CHW and the link facility of the estimated pick up time and arival to health facility.
study overview
The study aims at addressing two major delays that are core to neonatal and maternal mortality using the mobile phone as a gadget to improve these delays which are:-
Delay in decision making.
delay in arrival at the health facility.
Delay  in decision making is addressed by empowering expectant women with educative trimester text messages, home visits by community health workers and follow-up calls where mothers' concerns are addressed.
Delay in arrival at the health facility is addressed by use of transport navigation system whereby a bodaboda/ motor bicycle rider picks the mother and takes her to the facility and takes her back home after getting both antenatal and postnatal services
DIAGRAM SHOWING TRANSPORT NAVIGATION SYSTEM.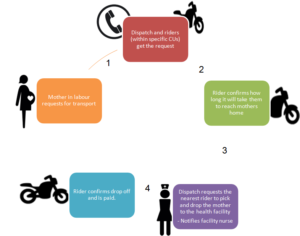 Mother are registered into the study by the community health workers who have smart phones, using maternal health Application installed in their phones. The registered information is synchronized automatically into the dashboard in MACCESS database.
The mother/client is then enrolled using M-survey application using detailed information provided by the community health worker.
This process provides us with platform of communicating with the mother as well as sending her trimester based text messages.
SUCCESS OF THE STUDY
We have been able to see tremendous improvement in acquisition of knowledge by the mothers and the community at large.

Hospital deliveries have increased.

We have been able to create a great synergy in terms of cooperation between skilled birth attendants and the tradition birth attendants, where TBAs are invited to facility meetings and empowered with information on maternal and neonatal issues.

Hospital /facility indicators have also improved.
The study came up with a form of appreciation of mothers' and their families effort by providing incentive inform of mother baby packs to the enrolled mothers as well as assisting the mother in acquisition of NHIF cards.